BACKGROUND
As a multi-skilled videographer and production specialist offering services ranging from online explainer videos to television commercials and nearly everything in between, Matt Shea of Matt of All Media was already curious about providing time-lapse photography to clients and what it could help bring to his company as a regular service.
Providing time-lapse solutions and services would not only allow Matt and his team to expand their current offerings to existing clients, but it would also allow them to break into the construction photography industry, which offers a number of new opportunities.
THE PROBLEM
Matt and his team received a time-lapse editing request from a prominent client, which spurred him to seek out an affordable and reliable professional-grade time-lapse camera solution.
Since Matt and his team had proven their ability time and again with this particular client, the client came to Matt and his team with a time-lapse editing project. The client had already installed a DIY-style time-lapse camera on a personal project of theirs and they wanted Matt and his team to help with the editing and polishing of the raw footage to turn it into a quality time-lapse movie.
The original goal of the client in undertaking this time-lapse endeavor was to capture spectacular footage of their intricate construction project in order to help memorialize it and showcase it in future marketing efforts for years to come.
Once Matt got his hands on the raw footage, however, it was apparent that what the client had envisioned in regards to the time-lapse movie of their project and what the DIY-style camera actually delivered were worlds apart. The captured footage from the DIY-style camera was not as crisp or as sharp as the client (or Matt and his team) wanted, and the photos jumped around because the camera shifted whenever batteries or SD cards were being swapped out at the job site.
Additionally, the DIY-style camera missed several key milestones of the build when the batteries went dead. This was a major letdown when important milestones were taking place on the job site and ultimately not documented.
Finally, the DIY-style camera was completely dependent on third-party software for editing or accessing the captured time-lapse footage, which Matt and his team found to be cumbersome and time-consuming to utilize.
GOALS AND OBJECTIVES
With the experience of a DIY-style camera and its limitations fresh in mind, Matt decided it was time to find a better, professional-grade time-lapse solution to offer to his clients.
In particular, he wanted to find:
a professional-grade time-lapse camera solution capable of delivering crisp, 4K photos and videos for use in a variety of media formats,
a proven time-lapse solution at an affordable price that can easily be added to his existing line of services,
and an easy-to-install and easy-to-use time-lapse camera that doesn't need constant attention from crew members to keep it up and running.
From the above criteria, Matt and his team started searching online for time-lapse construction camera solutions to see what was available.
SOLUTION
After finding a handful of time-lapse camera providers online, Matt dug in and really started to compare solutions side-by-side.
"We compared time-lapse camera solutions in terms of quality and cost, but also, what will we get at the end? What's the quality of the time-lapse movies like?" Matt recalls.
"Once we saw what iBEAM delivered, it was an easy choice to make. We purchased our first camera right out of the gate for a client's project and have been going steady from there!"
RESULTS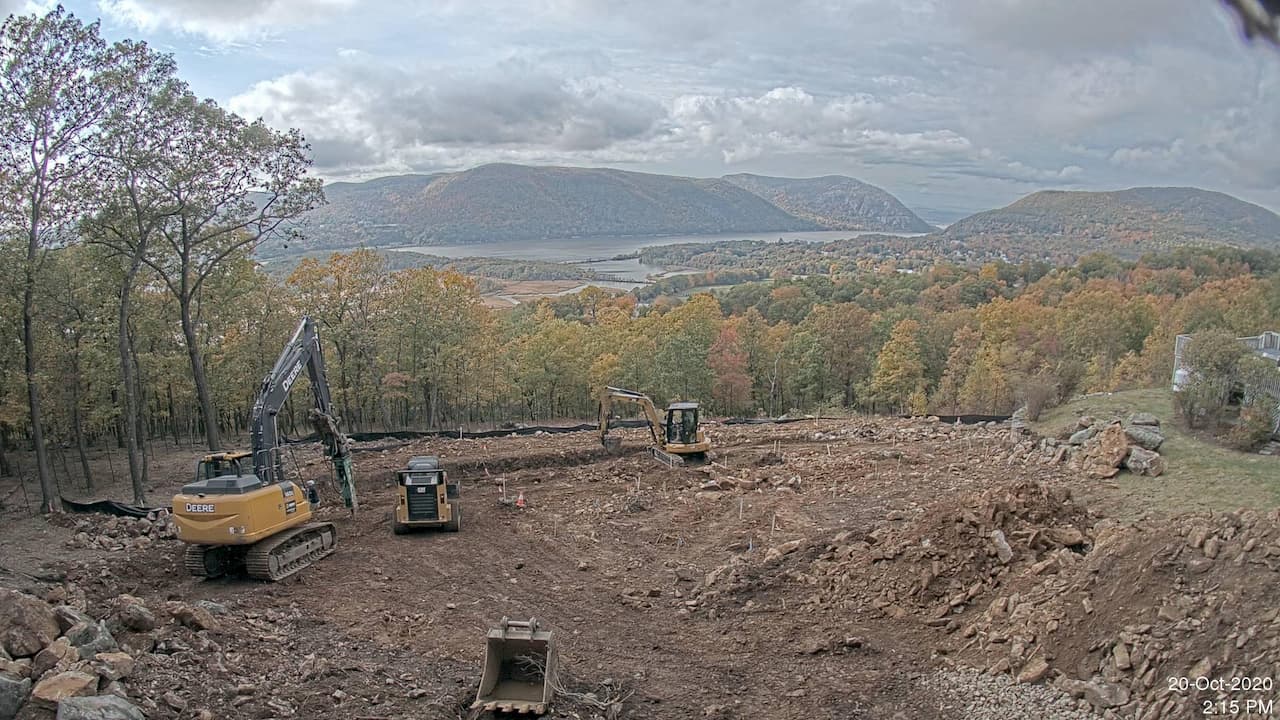 The deliverables iBEAM Construction Cameras provided to Matt and his team were exactly what he was looking for: affordability and quality in an easy-to-use construction camera solution.
After installing their first iBEAM time-lapse camera (the iBEAM Fixed 4K, to be exact), Matt, his team and his clients were so blown away by what they saw and experienced that they immediately ordered two more time-lapse cameras!
Everyone loves the simplicity of the iBEAM time-lapse cameras. The ability to provide clients with a live-feed of their project in addition to impeccable quality photos and time-lapse movies has been a welcome addition to the services offered by Matt of All Media.
---
"People LOVE the live feed!
It can be accessed on a phone, computer, laptop, tablet, etc. It's SO easy to use and generates immediate excitement about a project!"

---
Additionally, Matt was thoroughly impressed with the effective add-ons and upgrades available from iBEAM, as they actually did what they claimed and added value to the overall solution, "They weren't just bells and whistles."
Overall, Matt and his team are beyond pleased with their cost-effective time-lapse solutions from iBEAM Construction Cameras and the new line of services they allow him to offer to clients.
FINAL THOUGHTS
Matt sums up his experience with iBEAM's time-lapse cameras:
"Why did we choose iBEAM? There were a number of things that ultimately added up to push iBEAM to the front of the pack, but one that my team and I really appreciated was the simplicity of the service. It's SO easy!
"As a photographer, I know there are lower cost, cheaper-made cameras out there, but they're usually significantly more complicated and time-consuming to use and have more moving pieces that require more attention from team members to keep running. Instead, we were looking for more of a 'one-size fits all' service, and iBEAM has the cleanest solution that fits that bill.
"The cellular service stood out as well since it's included with the service and not an extra charge -- and as other photographers might know, getting an ethernet connection set up in the field at a job site is not always the easiest thing to accomplish — so the inclusion of the cell service is important for us, too.
"Really, it's as simple as just plug the time-lapse camera in and it's working — very simple!"
Until next time, keep what's really important in focus.
Doing the right thing, for every client, every time.
Vicki Robertson
Vice President