From the moment a construction camera is installed on a project, it captures hundreds, if not thousands, of photos all the way up until the project is completed.
All of these photos help to visually illustrate a project as it comes together, as well as to document any accidents or incidents that may occur on the job site. They provide timely visual updates for project members or investors that may be located away from the physical job site, and can also help should an instance arise in the future where photographic proof is needed to counter a litigation claim.
But how do you access all of those photos of your project?
How are they stored and organized to help you and your team get the most out of them when you need them the most?
Our philosophy at iBEAM Construction Cameras is to keep it simple and effective, and our online photo archive is no exception.
Organization is Key
Once you log into your password-protected iBEAM Construction Camera online archive, you'll be presented with the most recently captured image from your job site. It's a quick and easy way to see the status of your project right now.
From there, you and your team can easily navigate to a photo from a specific date or time via the easy-to-use calendar.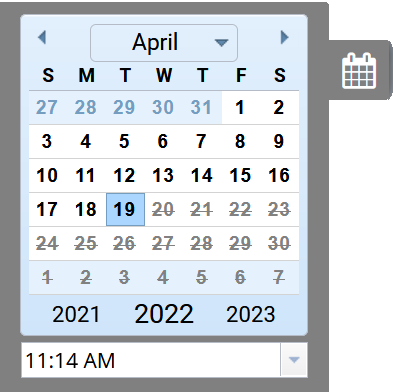 If you aren't certain exactly when an event occurred, the Filter feature allows you to visually search photos in hourly, daily, weekly, or monthly increments.
In addition to the filtering capabilities inside the iBEAM archive, you're also able to share, download, or print photos.
These simple yet effective features help keep all of your captured 4K photos organized and easily accessible.
Want to share a wall tilt-up photo with the project manager or out-of-state investor? Just email it their way.
Need to use a completed project photo for marketing purposes on your website or print materials? Download a specific image from your photo archive and you're ready to put it to good use!
Want to show teams during your weekly meeting a particular point of interest from the job site? Put the image on full-screen during your meeting and you're all set.
See Our Photo Archive in Action First-Hand
When you're ready to experience the power and simplicity of iBEAM online photo archives and construction camera solutions, connect with one of our camera specialists and they'll be more than happy to show you first-hand with an on-demand demonstration.
What better way to experience the simplicity of our photo archives than by seeing it in action yourself?
Schedule your personal construction camera demo here.
And with affordable purchase and short-term construction camera rentals, we're confident we have the right camera for your next project, be it big or small.
Until next time, keep what's really important in focus.
Vicki Robertson
Vice President
iBEAM Construction Cameras

Doing the right thing, for every client, every time.